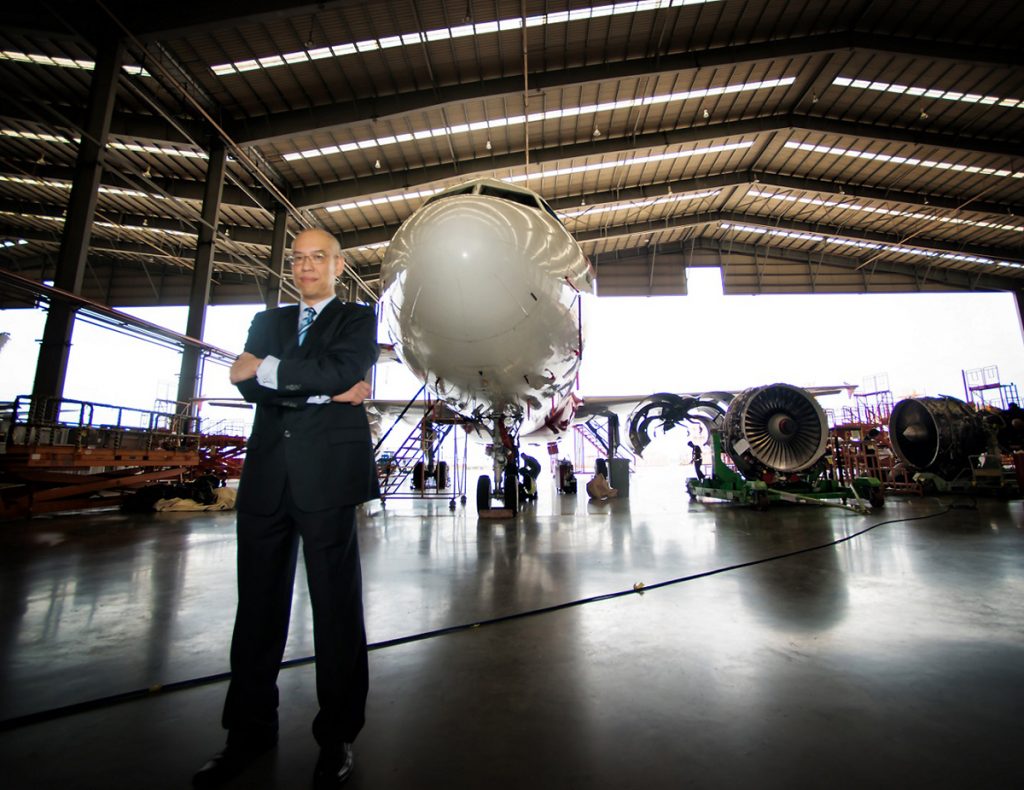 We have two state-of-the-art hangars, including one that was opened only 2 years ago to meet the strong demand for MRO services from across the Asia-Pacific region, says Lim (Pic: TMRpic)
The company's recent expansion is expected to help SAE to achieve 700 heavy maintenance inspections
By AFIQ AZIZ / Pic By TMR
The aviation business is growing by the day and that certainly spells a greater future for companies which are in the ancillary and support services sector.
Sepang Aircraft Engineering Sdn Bhd (SAE) is one such company that has seen great advancement since it began operation in Malaysia in 2007.
A wholly owned subsidiary of the Airbus SE group, SAE now operates two maintenance, repair and overhaul (MRO) hangars that have been rather busy servicing various aviation companies within the region.
The company's recent expansion is expected to help the company to achieve 700 "C" checks by the end of the year.
The company's target would be achievable as a result of its higher automation rate as well as the increase in its recruitment rate.
SAE CEO Raymond Lim said the company, which is a European Aviation Safety Agency-approved unit, has taken all the right steps to increase the number of its high-skilled workforce to 550 employees by last December.
The company plans to increase the workforce to 720 employees by year-end.
He said the move is part of the company's strategy to achieve a higher utilisation rate for both facilities which currently stands at 90%.
"We have two state-of-the-art hangars, including one that was opened only two years ago to meet the strong demand for MRO services from across the Asia-Pacific region.
"We have also ramped up our hiring to support this growth, and SAE today employs around 600 people in highly skilled jobs," he told reporters after the SAE media tour in Sepang yesterday.
Lim said by having a better number of human resources, SAE would be able to reorganise its working shift structure. At present, the company could only operate a single shift
structure.
As for the automation process, SAE had already implemented the first phase of its artificial intelligence technology called "Smart Hangar" last year.
This, Lim said, has allowed the company to improvise its components workshop efficiency and productivity.
While technology would be the company's main drive, Lim said the big number of employees in the company's workforce is not redundant.
He added that the company has been investing in upskilling programmes, so that its workers could gain higher knowledge and skills to continue operating the new system.
"What is important is that we could enhance our efficiency and reduce the turnaround time. More aircraft could be serviced here," he said.
SAE was established in 2007 and it has already managed to perform more than 600 "C" checks (scheduled aircraft heavy maintenance inspections) about 18 months after its second hangar began operation in 2017.
Currently, SAE's two hangars are able to handle 120 checks annually. Prior to the establishment of the second hangar, SAE managed to perform 500 "C" checks of aircraft.
As it is, the turnaround time per flight at SAE would require between eight and 25 days to conduct the "C" checks, while paintworks may take from eight and 12 days for completion.
"It depends on the complexity of the aircraft issues, as well as the designs for the spray and painting. We aim for a better turnaround time in the future," Lim said.
He added that the company will continue to explore better automation mechanism in its processing line, which indirectly would add more value to its human capital.
Indirectly, the company is employing about 4,000 workers in its business chain.
In total, both hangars could accommodate up to eight single-aisle aircraft at one time.
It also houses a major regional of spare parts for Airbus A320, A330 and A380 aircraft.
Airbus, the European manufacturer, has forecast global air traffic growth to be double every 15 years.
As for the Asian-Pacific region alone, the aircraft fleet is set to almost triple from 7,000 today to over 20,000 in 20 years.
Lim said Airbus has also predicted an annual 5.5% annual growth in passenger traffic for the Asia-Pacific region compared to 4.4% of the global average growth.
"The in-service fleet of 20,000 aircraft in 20 years' time will include 4,000 of the aircrafts currently in-service and almost 16,000 new aircraft to meet replacement needs and growth," he said.
He added that the requirement to service fleets in this region will translate into more than a third of the global MRO business, which will have a value of more than US$660 billion (RM2.7 trillion) for the next two decades.
To date, more than 70% of SAE business revenue is generated by scheduled aircraft maintenance, followed by sales of parts and components (15%) and about 10% from the pain- ting activities.
The company's MRO currently focuses on dedicated support for the growing Airbus A320 fleets in Asia Pacific and the region's ATR turboprop aircraft.
The MRO provider is servicing a wide range of companies around the region such as AirAsia Group Bhd, Bangkok Airways pcl, IndiGo Airlines Pte Ltd, Jetstar Asia Airways Pte Ltd, Malaysia Airlines Bhd, Scoot Tigerair Pte Ltd and VietJet Aviation Joint Stock Co.